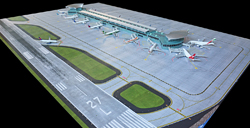 Airport Overview (click to enlarge)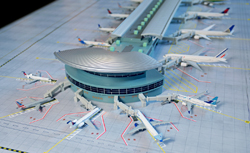 Terminal Gates & Rotunda (click to enlarge)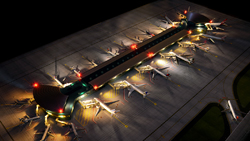 Night Lighting (click to enlarge)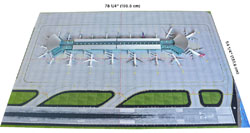 Mat Dimensions (click to enlarge)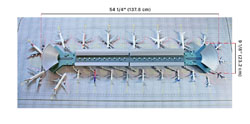 Terminal Dimensions (click to enlarge)




GeminiJets, the world's leading brand of collectable die-cast airplane models, introduces an all-new 1:400-scale deluxe airport terminal. Pre-constructed of durable resin and easy to set up, the new terminal measures more than 54" (137cm) in length. Two sturdy, rectangular sections fit snugly together to form the primary portion of the structure and each end is capped with an attractive terminal rotunda. In all, 22 gates and jet bridges line the entire perimeter.

Based on modern, contemporary airports, the new GeminiJets terminal features sweeping corrugated overhangs and sleek, linear facades. Wrap-around windows and battery-operated interior and rooftop LED lighting add realism and bring the terminal to life. When fully lit, the airport looks spectacular for those overnight arrivals and departures! The set also comes with stickers for customizing gates with the official logos of several of the world's major airlines.

Two years in the making, the new GeminiJets terminal is designed for use with GeminiJets' wide range of precision 1:400-scale models. The terminal comes in a full-color carry-case measuring 19" x 15" x 11" (48cm x 38cm x 28cm).

Also available is an optional new four-piece airport mat set (GJAPS008). Made of heavy-duty polyurethane, the sections feature a runway, taxiways, gate markings and designated terminal space. Plus, the mats are reversible and give collectors the opportunity to double the size of their layouts with a parallel second runway! And, by adding a second new GeminiJets terminal, the gates and jet bridges increase to a total of 44 positions – making an impressive airport diorama twice as impressive!